A. M. NAIK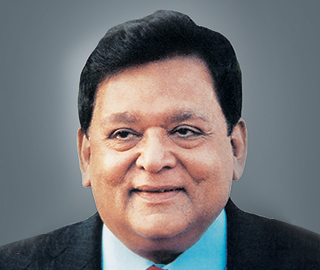 A. M. Naik
Group Chairman
"Progress and growth for business organizations of the 21st century will be through effective and efficient management of projects. Even organizations that are focused on products have realized that today's short product life cycle dictates constant interjection of projects for new product development.
Projects are the engines that drive innovations from idea to commercialization. Projects are also the drivers that make organizations better, stronger, and more efficient. This is particularly true for organizations like Larsen & Toubro, whose primary focus is on engineering projects.
The term project connotes different meanings to different people, but in general one has to understand that any operation undertaken for the first time is a project. Research has shown that many great projects fail to produce the expected results or are not completed on time or on budget or achieve the originally conceived objectives.
One may think that projects fail because of poor planning, lack of communication, or inadequate resources; but as the evidence suggests, failure is often found even in well-managed projects that are run by experienced managers and supported by highly regarded organizations. Most project problems are not technical but managerial in nature especially from a project perspective.
What is not well understood is that project management is more than just scheduling! Certainly, the tools of project management are absolutely necessary for success, but they are not sufficient by themselves.
We, at L&T, have been in the forefront of project management and have created abundant wealth of knowledge in conceiving, planning and executing mega-scale projects.
Our own understanding of engineering, procuring, constructing and managing projects led us to the firm belief that there is a compulsive need for creating a body of knowledge for project management within our fold.With this view we have conceived the L&T Institute of Project Management (L&T IPM), an academic body that seamlessly integrates itself with the practicing project manager in creating and disseminating the project management learning for future project managers.
I am particularly pleased to write this foreword due to the fact that the vision of IPM is directly linked to the vision of L&T to be a global player in the area of projects. By bringing in globally accepted best practices in project management to the class room for learning, IPM would render yeomen service to the project management community of L&T and as a consequence will become a centre of excellence in project management practices."
S. N. SUBRAHMANYAN
S. N. Subrahmanyan
Chief Executive Officer & Managing Director
For a project-based Company like L&T, superior project management is key to our continued growth, even as we look to execute a slew of mega projects that we have bagged in the recent past, with more to follow. Over the years, L&T Institute of Project Management (IPM) has been playing a significant role to enhance our inherent management capabilities, and the onus on IPM is even greater now as we seek to succeed in an ever-evolving world of technology and digitalization.

Undoubtedly, the pandemic has increased the need for us to be safer, smarter, stronger, and more resilient in our project delivery. While our track record of having successfully executed the biggest, largest, tallest, smartest, and most complex of projects will certainly hold us in good stead, Project Directors & Project Managers will require more drive, passion, and professionalism to meet the new emerging demands. This is where IPM can make a big difference by enhancing our project management competencies across levels.

By aggressively embracing frontier technologies and digital solutions, we have edged ahead of the competition. It is now critical to maintain that lead for which we need to drive and sustain a technology mindset across L&T. IPM will need to play the lead role to make this happen by incorporating digitalization modules in the course curricula and inviting Digital leaders and officers to share their insights. The recently launched Knowledge@Work platform will help to share the experience and knowledge of project managers, for the benefit of the larger pool of project professionals.

Recognizing and rewarding talent is equally important to achieve our organizational objectives. The recent recognition by a digital platform of being one of the top employers in our technology, engineering, manufacturing & construction space is noteworthy, but the effort should be to continually re-train and upskill our human resources. The fact that since its inception in 2008, IPM has trained over 17,000 project professionals and imparted about 126,000 man-days of training are good but the need is for greater momentum.

It is heartening that IPM's programmes have been strengthened by its collaborations with international institutes and professional bodies such as SDA Bocconi, University of Texas, Royal Institute of Chartered Surveyors (RICS), Project Management Institute (PMI), Construction Industry Institute (CII-USA), Association for Advancement of Cost Engineering (AACE), and association with national institutes of importance such as IIMs and NICMAR.

As we forge ahead, we look forward to IPM strengthening us to stay ahead by providing high-quality project management education to achieve greater project management prowess.

All the best!
SNS
SUBRAMANIAN SARMA

Subramanian Sarma
Whole-time Director & Sr. Executive Vice President (Energy)
Given its deceptively simple name, for many, Project Management often seems to be one among the many management disciplines with little organizational heft. In truth, however, Project Management is a highly complex and specialized discipline, tied intimately to the success or failure of an organization. And for a company like L&T, it is indispensable! Much of our success over the last eight decades in delivering world-class projects and setting global benchmarks across industries is owed to our superior project management capabilities.

Thirteen years ago, we took all the experience and knowledge which we had accumulated over the years and established the L&T Institute of Project Management (L&T IPM). It has since been a crucible of learning and innovation that has played a pivotal role in developing a crop of very smart project professionals for our businesses.

In the past, the institute has been the knowledge partner and co-creator of bespoke capability-building programs focussed on various management disciplines. This year, it has taken yet another important step of instituting the Knowledge@Work platform which promotes seamless sharing of the abundant knowledge and expertise available within the Group. By connecting project professionals in need of guidance with relevant subject matter experts, this platform further extends the collaborative approach that has always been a part of the DNA of IPM.

I wish the faculty members and the Dean of IPM the very best as they continue on their journey to develop and nurture world-class project management professionals.
T. MADHAVA DAS
T.Madhav Das
Whole-time Director & Sr. Executive Vice President (Utilities)
'Stay Safe' is the common by-line these days. But we have amidst us the embodiment of 'Stay Ahead, Stay Relevant, Stay Connected'.

Excellence in Project Management has been a hallmark of the L&T story. To stay ahead in that game, L&T IPM can be a major enabler.

The workplace is dynamic and the work nature is nebulous. As Carl Sagan nailed it, it requires an exquisite balance between sceptical scrutiny of existing theories and great openness to new ideas. To do that IPM is one such vehicle we have.

A Company as diverse as ours requires bespoke programmes. We could witness the involvement and professionalism of IPM in designing and delivering courses for PT&D; NuEPC for our planning engineers is an example.

When we speak of relevance, we mean pedagogy aligned with our practices. Embedding training into work through a BTP. Involving immediate supervisors of the trainee in the process. Peer learning. The right mix of internal and external faculty. Digital and experiential methods.

At the same time, how do we cross-pollinate learnings across? How to make silos speak to each other without becoming a Babel Tower? IPM's L&T Body of Knowledge Case Studies (BoK) is an answer probably. SME Connect is a great idea.

I see there is an element of connectedness. ATL courses are linked. K@W Portal is made available. Optimal mix of VILT and self-paced learning. Specific Competencies Development. Collaboration with reputed academia. Masterclasses with CRM kind of internal depts.

Soft skills play a key role in this age of collaboration. IPM is mindful of this. Also, they design courses with PMI-RMP kind of certifications in mind. So, you gain immensely, both professionally and personally
As a business, knowledge management is a key differentiator for a company like us with a global, distributed, mobile workforce. Also, we have nurtured bigger ambitions in the Executive Education space.

Stay Healthy, Stay Learning!
A L SEKAR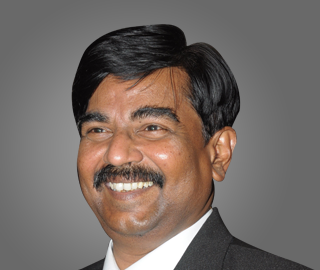 A.L.Sekar
Senior Vice President-Special Projects
Construction industry is going through a phase where the projects are becoming more and more complex to execute - in terms of more efficient structural shapes, modern construction methodologies, difficult terrains in terms of topography and geology, shrinking construction durations… To face and handle such challenges, it is important to have the right knowledge, skills, and creativity infused into the project management discipline. It is not only necessary to meet the current scenario in these challenging times but also to face confidently the constantly changing future.

Catering to these needs, L&T IPM provides high-quality and relevant education through various platforms of learning to enhance one's knowledge and skill in project management. Being a forerunner in the construction learning arena, L&T IPM has unique programs designed for the development of various project management modules with intuitive training methods. L&T IPM has also got a platform wherein construction experts can be networked to facilitate finding solutions to unresolved complex issues in the field. L&T IPM's digital platform aids in learning and development at one's own pace making the learning experience even more convenient.

It is to be appreciated that L&T IPM has such a global vision and immense determination in imparting high-quality project management knowledge and skills to the members of our organization. A unique platform should be taken advantage of by the L&T family to excel in managing complex projects not only for now but also to be ready for the future.
My best wishes to L&T IPM and its beneficiaries!
DR. C. JAYAKUMAR
Welcome to L&T IPM - The School for Project Management Professionals.
Dr. C. Jayakumar
Vice President & Head - Corporate Human Resources
Even as infrastructure projects become more complex in nature and larger in size & scale, the ensuing challenges are both novel and without precedent, that call for new thinking, different approaches, and fresh perspectives in project management and execution. With its rich repository of programmes, L&T IPM has, for over a decade, been developing and preparing future-ready leaders equipped to face and overcome the emerging challenges.

At L&T, we have built for ourselves the reputation of having constructed or constructing the tallest, largest, longest, smartest, and most complex for which we require project leaders not just with the largeness of vision and keenness of granularity but also possessing the ability to synthetise the various aspects of management to successfully deliver a project. As clients, customers and consultants become more demanding, and deadlines more stringent, the accent on maintaining the highest standards of safety and quality in delivery is a norm and non-negotiable that require a fresh mindset and orientation. The huge strides in the realms of automation, mechanization, and digitalization have increased the onus on project leadership to remain alert to embrace frontier technologies to drive efficiencies and stay ahead of the curve. In the final analysis, a successful project is one that significantly contributes to the Company's bottom line and that is only possible if every aspect of project management has been efficiently managed.

The pace of change is fast; project leaders, however, must be quicker with in-depth knowledge, wide understanding, and a 360-degree vision to deliver.

Focused on designing and developing relevant course curriculums, curating unique programmes for leadership development, project competency development & career, progression and composing innovative case studies, L&T IPM has created a rich body of knowledge and learning. Their slew of courses, some developed in-house and others curated with institutions of global repute, give project leaders a vital head start to stay ahead in a fiercely competitive world.

Welcome to L&T IPM's world-class temple of knowledge.
V. T. CHANDRA SEKHAR RAO
Welcome to L&T IPM - The School for Project Management Professionals.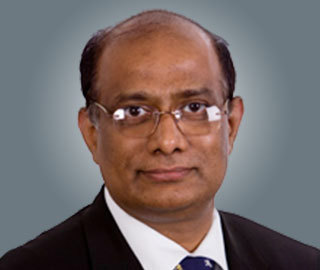 V.T. Chandra Sekhar Rao 
Dean, L&T Institute of Project Management
L&T Institute of Project Management is probably the first corporate institute established, with an exclusive focus on project management education. From its inception in 2008 to now, the institute transformed itself from a typical training institute offering few courses in a year to a premier project management talent development academy. We owe this development to continuous encouragement and direction from L&T Management and the Project Management council members, and continual improvement efforts taken up by our committed faculty and program administration.

Executing large capital projects has become an extremely competitive and complex business with increasingly higher expectations of predictable and dependable outcomes and reduced tolerance for undesirable/ unexpected results despite roadblocks and shrinking margins. Such a business environment demands highly skilled professionals to play the roles of project managers, project directors, and project leaders. As a well-equipped enabler, L&T IPM has committed itself to provide the required deep intensive knowledge and tools and techniques to the project professionals through a rich pedagogy well-structured to develop the required competencies. Our training program contents are distilled out of the international best practices, academic research, and strong execution experience within L&T.

I am happy to summarise few recent developments that demonstrate the distinction of this institute:
ICs have recognised the benefit of IPM being the learning partner in talent development. IPM started developing IC-specific courses addressing the nuances and challenges of the respective industry domains and such programs occupy a significant part of IPM offering.
IPM Flagship program contents are thoroughly revised and upgraded to match with competency required at various levels in the organization and addressing all project life cycle challenges in execution. 
L&T has taken proactive steps in going digital and IPM flagship programs now contain the digitalization and technology adoption modules as part of all flagship programs.
IPM delivered training programs for major clients like Aditya Birla Group, Reliance, and Vedanta and participants have given excellent feedback on the course and the faculty.
Project Funding agencies such as World Bank, New Development Bank approached IPM for delivering the program for them and we often landed with repeat programs.
We introduced global best practices through CII (Construction Industry Institute) online Education modules, SCDMs (Specific Competency Development Modules), and Master Classes.
IPM launched a unique knowledge management platform for L&T employees (called Knowledge@Work) connecting project professionals and subject matter experts. 
The institute is publishing a quarterly learning journal - IPM PRISM covering pertinent and latest project management topics and themes. 
In collaboration with PMI, we started sharing project management fundamentals in a fun way, through our Friday Funda bulletin.
Experiential learning, with computer-aided project simulation, has been added to the Pedagogy. 
We provided access to all our program participants to the latest books and literature on project management using ProQuest and other platforms. 
L&T IPM played in a key role in the creation of the Indian Infrastructure Body of Knowledge (InBoK), which a national initiative by NITI Aayog and QCI. Please come and explore L&T IPM, which is at your service as a knowledge partner on your path to pre-eminence in project execution.