A. M. NAIK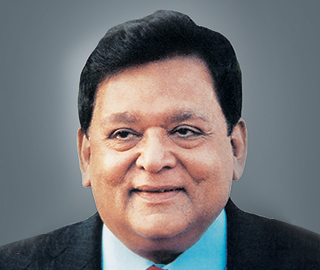 A. M. Naik
Group Chairman
"Progress and growth for business organizations of the 21st century will be through effective and efficient management of projects. Even organizations that are focused on products have realized that today's short product life cycle dictates constant interjection of projects for new product development.
Projects are the engines that drive innovations from idea to commercialization. Projects are also the drivers that make organizations better, stronger, and more efficient. This is particularly true for organizations like Larsen & Toubro, whose primary focus is on engineering projects.
The term project connotes different meanings to different people, but in general one has to understand that any operation undertaken for the first time is a project. Research has shown that many great projects fail to produce the expected results or are not completed on time or on budget or achieve the originally conceived objectives.
One may think that projects fail because of poor planning, lack of communication, or inadequate resources; but as the evidence suggests, failure is often found even in well-managed projects that are run by experienced managers and supported by highly regarded organizations. Most project problems are not technical but managerial in nature especially from a project perspective.
What is not well understood is that project management is more than just scheduling! Certainly, the tools of project management are absolutely necessary for success, but they are not sufficient by themselves.
We, at L&T, have been in the forefront of project management and have created abundant wealth of knowledge in conceiving, planning and executing mega-scale projects.
Our own understanding of engineering, procuring, constructing and managing projects led us to the firm belief that there is a compulsive need for creating a body of knowledge for project management within our fold.With this view we have conceived the L&T Institute of Project Management (L&T IPM), an academic body that seamlessly integrates itself with the practicing project manager in creating and disseminating the project management learning for future project managers.
I am particularly pleased to write this foreword due to the fact that the vision of IPM is directly linked to the vision of L&T to be a global player in the area of projects. By bringing in globally accepted best practices in project management to the class room for learning, IPM would render yeomen service to the project management community of L&T and as a consequence will become a centre of excellence in project management practices."
S. N. SUBRAHMANYAN
S. N. Subrahmanyan
Chief Executive Officer & Managing Director
"The rapid pace of globalizations has brought with it global project management practices.Project owners today are very conscious of scientific principles of project management and insist on all the contracting organizations to follow the current frame works of project management in all their projects.
This is more so in Government controlled projects. L&T has been in the forefront of accepting project management concepts and implementing them in all the projects handled by them.
However, it is necessary that we keep ourselves updated and upgraded on the current standards in project management through structured interventions at periodic intervals.
In this respect, I am extremely pleased to learn about the yeoman work done by L&T Institute of Project Management (L&T IPM) during the past two years in propagating the principles of good project management.
While L&T IPM has an extraordinary basket of courses delivered at various locations, I am particularly impressed with their long duration courses like L-1, L-2 and L–3 .These courses are structured to meet the varying needs of the various levels of an organization like L&T.
These courses also bring with them the experiential wisdom of several years of L&T. I am sure that all of us in L&T will be benefitted by the courses offered by L&T IPM."
DR. C. JAYAKUMAR
Welcome to L&T IPM - The School for Project Management Professionals.

Dr. C. Jayakumar
Vice President & Head - Corporate Human Resources
"Even as infrastructure projects become more complex in nature and larger in size & scale, the ensuing challenges are both novel and without precedent, that call for new thinking, different approaches and fresh perspectives in project management and execution. With its rich repository of programmes, L&T IPM has, for over a decade, been developing and preparing future-ready leaders equipped to face and overcome the emerging challenges.
At L&T, we have built for ourselves the reputation of having constructed or constructing the tallest, largest, longest, smartest, and most complex for which we require project leaders not just with largeness of vision and keenness of granularity but also possessing the ability to synthetise the various aspects of management to successfully deliver a project. As clients, customers and consultants become more demanding, and deadlines more stringent, the accent on maintaining the highest standards of safety and quality in delivery is a norm and non-negotiable that require a fresh mindset and orientation. The huge strides in the realms of automation, mechanization and digitalization have increased the onus on project leadership to remain alert to embrace frontier technologies to drive efficiencies and stay ahead of the curve. In the final analysis, a successful project is one that significantly contributes to the Company's bottom line and that is only possible if every aspect of project management has been efficiently managed.
The pace of change is fast project leaders, however, must be quicker with in-depth knowledge, wide understanding and a 360-degree vision to deliver.
Focused on designing and developing relevant course curriculums, curating unique programmes for leadership development, project competency development & career progression and composing innovative case studies, L&T IPM has created a rich body of knowledge and learning. Their slew of courses, some developed in house and others curated with institutions of global repute, give project leaders a vital head start to stay ahead in a fiercely competitive world.
Welcome to L&T IPM's world-class temple of knowledge.
V. T. CHANDRA SEKHAR RAO
Welcome to L&T IPM - The School for Project Management Professionals.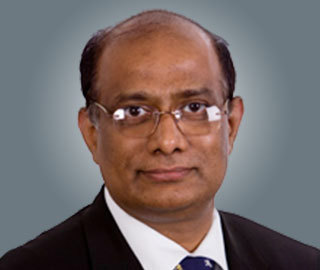 V.T. Chandra Sekhar Rao 
Dean, L&T Institute of Project Management
"Executing large capital projects has become an extremely competitive and complex business with increasingly higher expectations of predictable and dependable outcomes and reduced tolerance for undesirable/ unexpected results despite road blocks and shrinking margins. Such a business environment demands highly skilled professionals to play the roles of project managers, project directors and project leaders. The knowledge areas of project management such as planning, scheduling, cost management, risk management, subcontract management and commercial management and domains of capital project execution (management of engineering, procurement, construction and commissioning) got developed as specialized areas within project management.  As a well-equipped enabler, L&T IPM  is committed to provide the required deep intensive knowledge and tools and techniques to the project professionals through a rich pedagogy well-structured to develop the required competencies. The content of the training programs is distilled out of the international best practices, academic research and strong execution experience within L&T.
L&T IPM has the advantage of being an integral part of L&T ecosystem; the institute has close ties/ links with L&T businesses and its joint ventures with business portfolios encompassing all aspects of EPC Business. As an academy, L&T IPM has association with global bodies like PMI, IPMA and AACE (International). It also has established strategic partnerships and tie ups with, George Washington University (USA), Indian Institute of Management, Ahmedabad, NICMAR and Royal Institute of Chartered Surveyors (UK).  We are also exploring strategic associations with few more renowned universities and Institutes in Europe and United States. This institute thus is well recognized to provide highest standards for practical project management education. The remarkable success of the institute has been made possible through the wholehearted support from the L&T top management and heads of various L&T businesses, dedication and talent of our faculty and staff, the achievements of our alumni in diverse business verticals. Today, we continue to attract a great diversity of strong, highly talented and successful professionals from Construction, Real estate, Power, Hydrocarbon Engineering (Oil & Gas), Ship building, Defense,Electrical & Automation,Manufacturing, Technology services, IT services, Smart world and communication etc. 
L&T IPM also is geared up to provide research and consultancy services to support continuous improvement initiatives in businesses through focused research in the domains of project management. Our faculty will be delighted to work with project management professionals to undertake in-depth research/ study on recurring project execution challenges to provide implementable recommendations.
"Vasistha Yoga" says that the bird on its flight to its destination has two wings – one wing is knowledge (Jnana) and the other is Action (Karma). In L&T IPM, we endeavor to strengthen the wing of actionable knowledge for each of the participants while other wing is reinforced by participants' own knowledge enriched actions. We treat our campuses at Vadodara and Chennai as temples of knowledge where the only ritual is continuous co-active learning and development. Please come and explore L&T IPM – your knowledge partner on your path to pre-eminence in project execution."